Small Business Insurance
Obtain the coverage you need for every facet of your operations.
biBERK Understands Small Business
Small businesses face all the same challenges as large ones, but often have to do so on a tight budget. We understand. That's why we've made working with biBERK fast, efficient, and cost-effective. Get a quote, purchase a policy, and manage claims all online at your convenience. Plus, save 20% over other providers. We're proud to trace our roots back to Berkshire Hathaway, a small textile company that had to overcome many obstacles to achieve success. And, we're honored to be helping today's small businesses achieve their goals.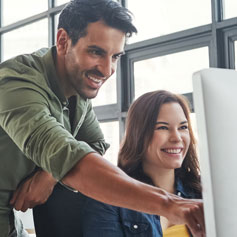 "There seems to be some perverse human characteristic that likes to make easy things difficult."
—Warren Buffett
We Serve a Wide Variety of Industries
Whatever your company does, it's likely we can help meet your insurance needs. Some of the many industries we serve include:
Coverage in Many Markets Coast-to-Coast
As part of Warren Buffett's Berkshire Hathaway Insurance Group, we're able to offer policies in most locations. Search by state to see what coverage options are available where you are.
Get a Quote Today
Trust biBERK to provide the right insurance for your small business.